Ice Cream Franchises
When opening an ice cream franchise there are a variety of ice cream shop options to choose from.
Below are a few types of ice cream shops you could open:
Stand Alone Store
Mobile Cart
Kiosk/Build-outs
Trailer
Mall Store Front
Double Drive-thru
Ice Cream Franchises – Kiosks
If you do not want to open and manage an entire shop, you can simply open a small ice cream kiosk in your local mall.  A kiosk is a stand-alone storefront that can be established within a larger shopping establishment.  Many ice cream franchises offer the option of opening a kiosk and will provide tips and decoration for the ice cream kiosk.
Ice Cream Franchises – Mall Store Fronts
The mall is the perfect location for your ice cream store as there's always a nice volume of traffic and an influx of young people who enjoy desserts. Your ice cream franchising corporation will help you open a store in the mall as well as decorate it. Having a store in the mall will provide more room for your employees to work and your customers to enjoy your ice cream.
Ice Cream Franchises – Stand Alone Stores
If you do not want to open a location in a mall – you may open an ice cream store typically located in a strip mall.  This type of franchise option might cost you a little more money in paying rent than the other options.
One of the first steps towards buying an ice cream franchise is to request some information from a leading franchise company. Click on the links below to learn more about ice cream franchises.
All American Ice Cream & Frozen Yogurt
All American Ice Cream
Angel's Ice Cream Franchise
Angel's was created to let consumers enjoy a special experience involving a blissful ice cream desert.


Baskin Robbins
Irresistible treats
Ben & Jerry's Franchise Information
Ben & Jerry's Homemade, Inc., the Vermont-based manufacturer of ice cream, frozen yogurt and sorbet, was founded in 1978 in a renovated gas station in Burlington, Vermont, by childhood friend

 Carvel
The Carvel Way
Cold Stone Creamery
Cremalita Fat Free Franchises
The new and delicious concept in fat-free, cholesterol-free Ice Cream, and our new Low Carb, no sugar added Ice Cream. Vist our site for details.
Dippin' Dots
FUN among all age groups!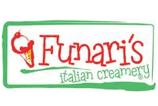 Taste of the Old Country
Gofer Ice Cream
Gofer Ice Cream
Haagen Dazs Franchise Information
The philosophy of Häagen-Dazs is simple: find the purest and finest ingredients in the world and craft them into the best ice cream, sorbet, and frozen yogurt.

Maggie Moos Ice Cream
MaggieMoos is an ice cream franchise located in the United States.
The Freshest Ice Cream
Ritter's Frozen Custard
Legendary Ice Cream
Swensens
Swensen's ice cream franchise.
Healthy desserts